One of the side benefits of the Mediterranean diet is that you are encouraged to drink a glass of wine with your evening meal. While "hard liquor" is discouraged, a glass of wine contains flavonoids which are a diverse group of phytonutrients (plant chemicals) found in almost all fruits and vegetables.
I have no reason to doubt the "science" supporting a glass of wine for dinner, I believe that it also helps to relieve stress and share in the conversation with friends and family. The Mediterranean lifestyle is no better illustrated than dining leisurely with with friends and family with a glass of wine in your hand.
In September 2018 Molecular Psychiatry published a research study comparing 41 different diets and lifestyle habits. Their research confirmed that people who follow a Mediterranean diet were 33 percent less likely to develop depressive symptoms or clinical depression. This was reported the Wine Spectator magazine with the obvious goal of suggesting that those who drink a glass of wine daily reduce the risk of depression.
I have no reason to doubt Wine Spectator's support for the Mediterranean diet. For those looking to enjoy a calming glass of wine with your next meal, do consider some useful programs to expand your wine cellar: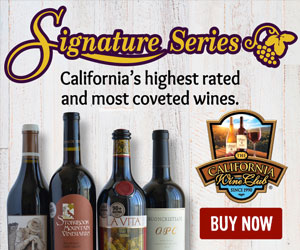 Related Posts