As we prepare for our May trip to Italy, I am gathering my notes from previous visits and charting our trip via great restaurants from Venice to Rome. This year we will be joined by my brother and his wife. This is their first trip to Italy and they are sooo excited.
I insist that the Mediterranean diet is far more than a diet – it is a lifestyle change. There are not too many "diets" that encourage a glass – or two – of wine with your meal. Sure, the flavonoids are healthy, but a glass of wine suggests a leisurely meal with friends and family. This year promises to be special as we share this remarkable country with my family. Fortunately, both our avid wine drinkers.
I am rather eclectic when it comes to wine. There are many lovely vineyards and grape varieties across the world that often deliver something special at every meal. I would be disingenuous in suggesting that I drink only Italian wines, but I am looking forward to our visit to Tuscany and a nice glass of Brunello di Montalcino.
While visits to vineyards are often instructional, you must remember that they are trying to sell you something. Many has been the time that a wine that tasted great at a bodega tasting, doesn't pack the same punch when paired with a home-cooked meal.
I vividly recall visiting a restaurant in southern Tuscany and asking the waiter what the difference was between the "house wine and the reserve." His answer was quite simple, "one Euro," cleverly suggesting that there wasn't much difference.
Fortunately, we will be visiting Greve where there is a delightful Enoteca (Falorni) where you sample hundreds of Tuscan varieties at different price points.
Personally, I become a bit confused after tasting six different wine varieties, but it is an excellent opportunity to experience the delight of Tuscan wines.
Needless to say, a good wine brings out the best in Mediterranean cuisine. Some people prefer the rich "oaky" flavors of a Chardonnay while others prefer a "light" Chablis or Orvieto. In any event, it is best to sample a wide variety of wines and pair them food to complement and enhance their flavors.
Personally, I prefer to experiment with a wide variety of wines. With different soils, grape varieties and climate, wines simply taste different from year-to-year even from the same vintner. While the "label" and wine designation certainly counts for the more expensive brands, one can often find great tasting wines between $10 and $20 a bottle.
One way to experiment is to subscribe to a monthly wine club. Over time – generally a minimum of six months – you will learn a great deal about grape varieties and learn to choose agreeable wines for your meals. This is an inexpensive and practical way to learn about wine. Two of our favorite wine plans are shown below: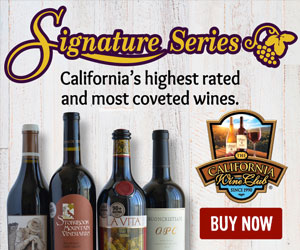 Short of visiting Italy, France or the Napa Valley, a wine program will certainly educate your taste buds to an adventure in wine.
Related Posts